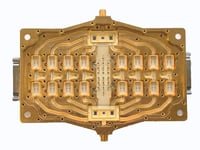 Monolithic microwave Integrated Circuits (MMICs) are used for designing very high frequency and high-powered electronics circuits, while offering system benefits with cost, reliability, reproduction, and control of circuit parameters. Built as integrated circuits, MMICs are designed for microwave frequencies that, sometimes, are as high as millimeter-wave frequencies for mm-MMICs.
Spectrum Control's capabilities include our in-house UK and US design teams and state-of-the-art design tools. They ensure that standard and customized MMIC devices achieve the right performance for critical specifications such as RF, electromagnetic, mechanical, thermal, and stress analysis. MMICs are highly dense component packages that utilize and process microwave signals internally, meaning they are key for applications looking for SWaP-C optimization. MMICs perform a variety of functions such as microwave mixing, power amplification, low-noise amplification, and high-frequency switching.
MMICs are made up of a number of different high-frequency components on the same chip, delivered in a semiconductor die form or on a surface-mount-technology (SMT) package that is mounted on a printed circuit board. These devices can be a passive component such as a filter, or an active component such as an amplifier.
Originally fabricated solely on gallium-arsenide (GaAs) semiconductor wafers, MMICs now are based on a wide range of semiconductor materials. These include silicon (Si), indium phosphide (InP), silicon germanium (SiGe), and, increasingly, gallium nitride (GaN) for operating at high voltages and high-power levels at microwave frequencies, as a basis for microwave amplification and for transmitter and transceiver circuits.